October Functional Forum - Food, Autoimmunity and Deprescription!
Monday, October 3, 2022 - 5pm PDT, 7pm CDT & 8pm EDT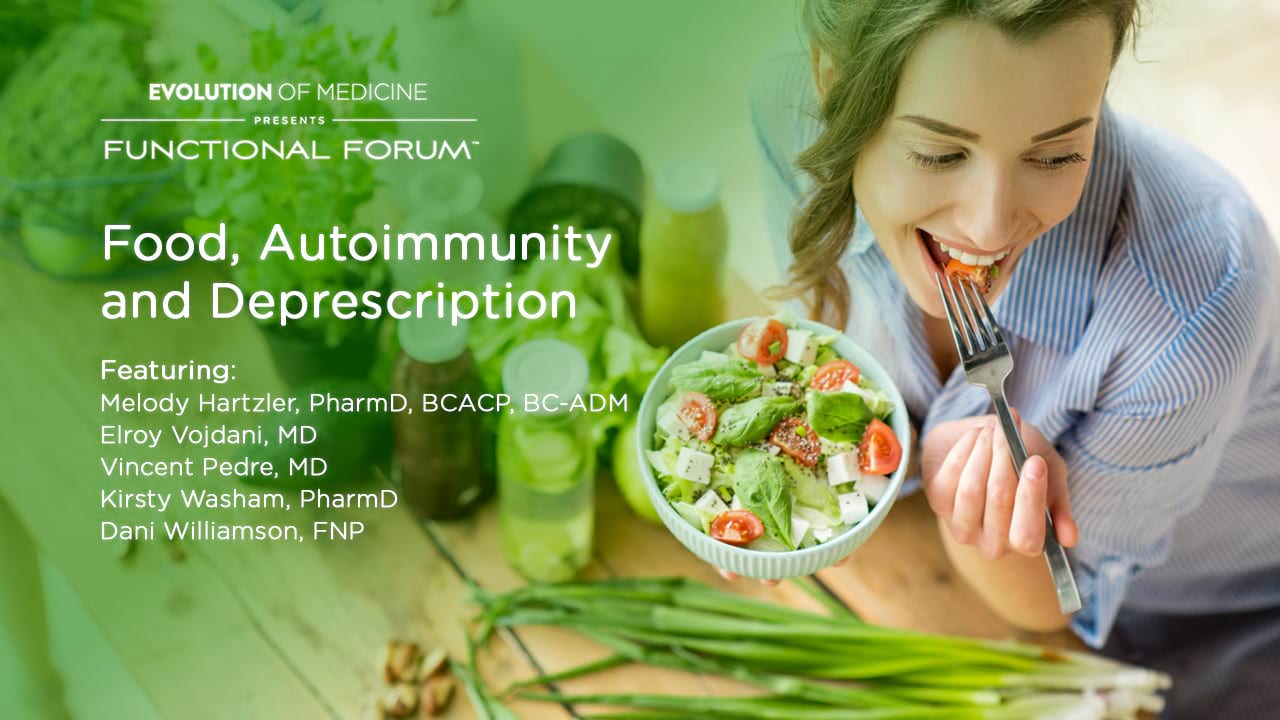 Melody Hartzler, PharmD, BCACP, BC-ADM
Elroy Vojdani, MD
Vincent Pedre, MD
Kirsty Washam, PharmD
Dani Williamson, FNP
Evolution of Medicine is thrilled to announce our October 2022 Functional Forum. We will address several critical topics in healthcare and functional pharmacy.
On the back end of the COVID-19 era, many practitioners are asking questions about how medicine needs to evolve to better handle the next crisis and how we can address what the pandemic left behind. Polypharmacy has been a major driver of negative health outcomes in America for some time, especially over the past few years.
These topics and more will be explored at the October Forum, where we will share James' favorite content captured during the September 24, 2022 Functional Pharmacy event. You'll recognize several of our former guests, including Elroy Vojdani, MD; Vincent Pedre, MD; Kirsty Washam, PharmD; and Dani Williamson, FNP.
Joining James live will be Melody Hartzler, PharmD, BCACP, BC-ADM, the founder of Functional Medicine CE, which provides continuing education for pharmacists. Melody joins the Forum to share her expertise on working within a clinical team as a pharmacist to reverse chronic illness and deprescribe, when appropriate.
No matter what kind of provider you are, if you're interested in helping patients avoid or recover from polypharmacy, this Forum will be worth the listen.
Who Should Attend?
Conventionally trained practitioners interested in functional integrative medicine
Generalists (primary care, family medicine)
Integrative Medicine (chiropractors, acupuncturists, physical therapists, dentists)
Specialists (psychiatrist, pediatrician, cardiologist, etc.)
Food focused practitioners (registered dieticians, nutritionists)
Lifestyle medicine, precision medicine and naturopathic medicine practitioners
Health coaches
Medical stakeholders
Digital health entrepreneurs
Can't Watch The Show Live?
Register and we will send you the replay!